Surf Life Saving's Junior Activities (or 'Nippers') is a fun outdoor program that grows a child's confidence, knowledge and skills in the beach environment. Not only will your child have fun and meet new friends, they will become part of an iconic organisation that has served the Australian community for over 100 years.
Every Sunday morning, from September to March, children come from all over the Redcliffe Peninsula and Brisbane to participate in Redcliffe Surf Lifesaving Club (SLSC) Nippers.
Our Suttons Beach location provides a safe and family-friendly environment to:
educate children in all aspects of beach safety – basic first aid skills, surf education, sun safety

develop skills in the surf and on the sand

 – flags, sprints, swimming, board paddling, wading and lots of FUN activities

provides a healthy competitive environment

 – club competitions, and carnivals
encourages all nippers to participate on a weekly basis – every Sunday morning of the season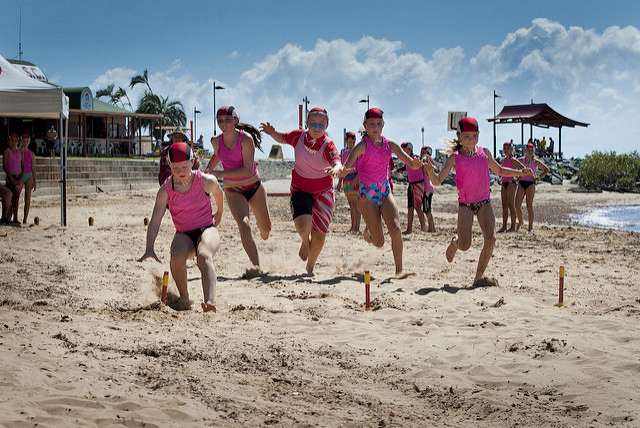 2020/21
Season Information
The first day of the 2020/21 season is Sunday 13th September 2020.
Nippers is held every Sunday morning of the season, excluding a Christmas break (dates to be confirmed).
Start time is 8:15am at our Sutton Beach clubhouse for announcements; beach activities start at 8:30am.
Finish time is approximately 10.30 – 11.00am, depending on age groups and conditions.
To join 
Redcliffe 
Nippers
Age criteria
To join Redcliffe SLSC Nippers for the 2020/21 Season, your child must be 5 years old as of 30th September 2020. Nippers is open to children aged 5 to 13 years old.
Age group is determined as at midnight of the 30th September.
Family Membership
As it is a requirement that a parent, guardian or carer (18 years old & older) joins as a member with their child, Redcliffe SLSC offers family-friendly Nipper Family Memberships which include:
Use of all club equipment at no additional charge

NEW nipper cap and pink rashie

Access to all club house facilities
Proficiencies
To join Nipper activities each child is required to complete pool, beach and carnival proficiencies, which vary by age group. Proficiencies will be done upon arrival at Sign-On Days.
Sign-On Days
New and returning nipper families must attend one of our Sign-On Days to be held at the Redcliffe SLSC clubhouse on:
Saturday 29 August 2020

 from 9am – midday

Sunday 6 September 2020

 from 9am – midday
Nippers team leader:
Junior Activities Chairperson (JAC)
2020/21 Season Michelle Hall
The Junior Activities Chairperson (JAC) oversees the operation of the club's junior activities programs which teaches critical beach safety skills to Nippers.
The JAC ensures the junior activities program meets the requirements for developing, nurturing and providing opportunities for Nippers so they have the skills and confidence to swim safely at the beach.